VietStock 2023 is an industry-specific event within the Livestock – Aquaculture – Meat Processing value chain, officially scheduled to take place in October 2023 in Vietnam. It promises to be a focal point for connecting with leading industry experts, businesses, and introducing domestic, regional, and international livestock and meat processing products and solutions. This event aims to discover new solutions, opportunities, and collaborations.
A Brief Overview of Vietstock
Vietnam is recognized as one of the most promising Asian countries in terms of livestock numbers and animal feed production. Therefore, Vietstock, now in its 11th year, is returning to Vietnam. It is concurrently held with the Aquaculture Vietnam 2023 specialized event. Vietstock plays a vital role in the domestic livestock industry, receiving direct support from top industry associations. It is expected to attract over 350 exhibitors and 11,000 trade and industry visitors from Vietnam and neighboring regions during its 3-day duration.
Informa Markets – a leading global exhibition organizer, brings a platform for trade, innovation, and development to specialized industries and markets. With its international B2B trading network spanning various sectors including Food & Beverage, Health & Nutrition, Construction & Real Estate, Fashion & Apparel, Informa Markets provides opportunities for direct connections and collaborations.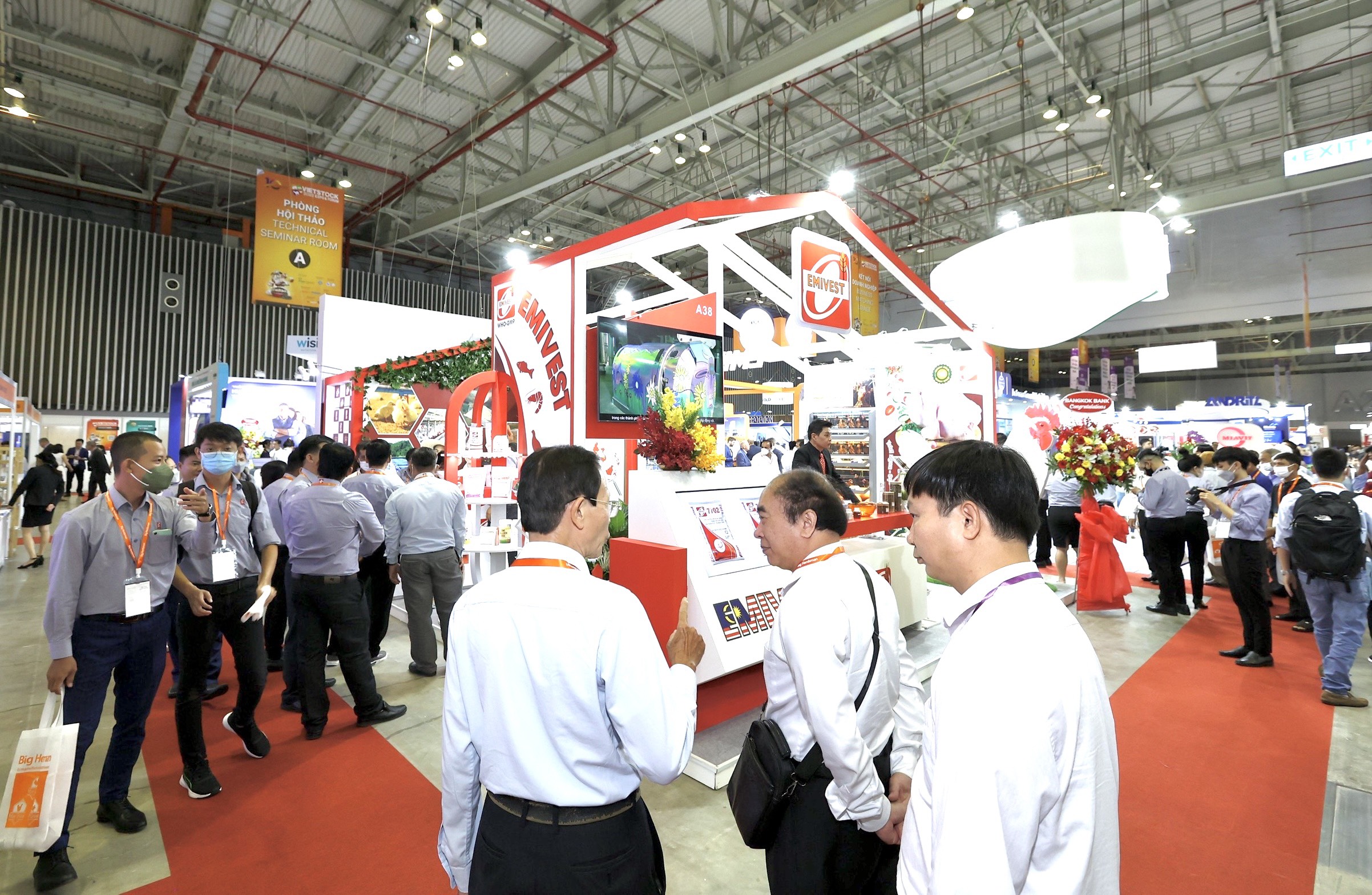 Details about Vietstock 2023
Date: October 11th – 13th, 2023 (Wednesday – Friday).
Venue: Saigon Exhibition and Convention Center (SECC), 799 Nguyen Van Linh, District 7, Ho Chi Minh City.
Exhibition Scale
Exhibition area: 8,800 square meters.

350 exhibiting companies.

Over 11,000 Vietstock 2023 visitors from more than 30 countries and territories worldwide.

Gian hàng tại triển lãm- Exhibition booth design
Exhibited Product Categories
Veterinary drugs. Livestock and aquaculture feed.

Cleaning and disinfection equipment and chemicals.

Climate control equipment.

Dairy industry equipment.

Farm water supply equipment.

Farm equipment.

Additives, animal nutrition raw materials, and animal nutrients.

Microelements.

Software.

Animal feed processing equipment.

Food supply systems.

Packaging and packaging equipment.

Egg incubation equipment.

Specialized associations.

Information systems.

Technology and materials for meat, egg, and milk processing industries.

Genetic technology.

Artificial insemination for livestock.

And more…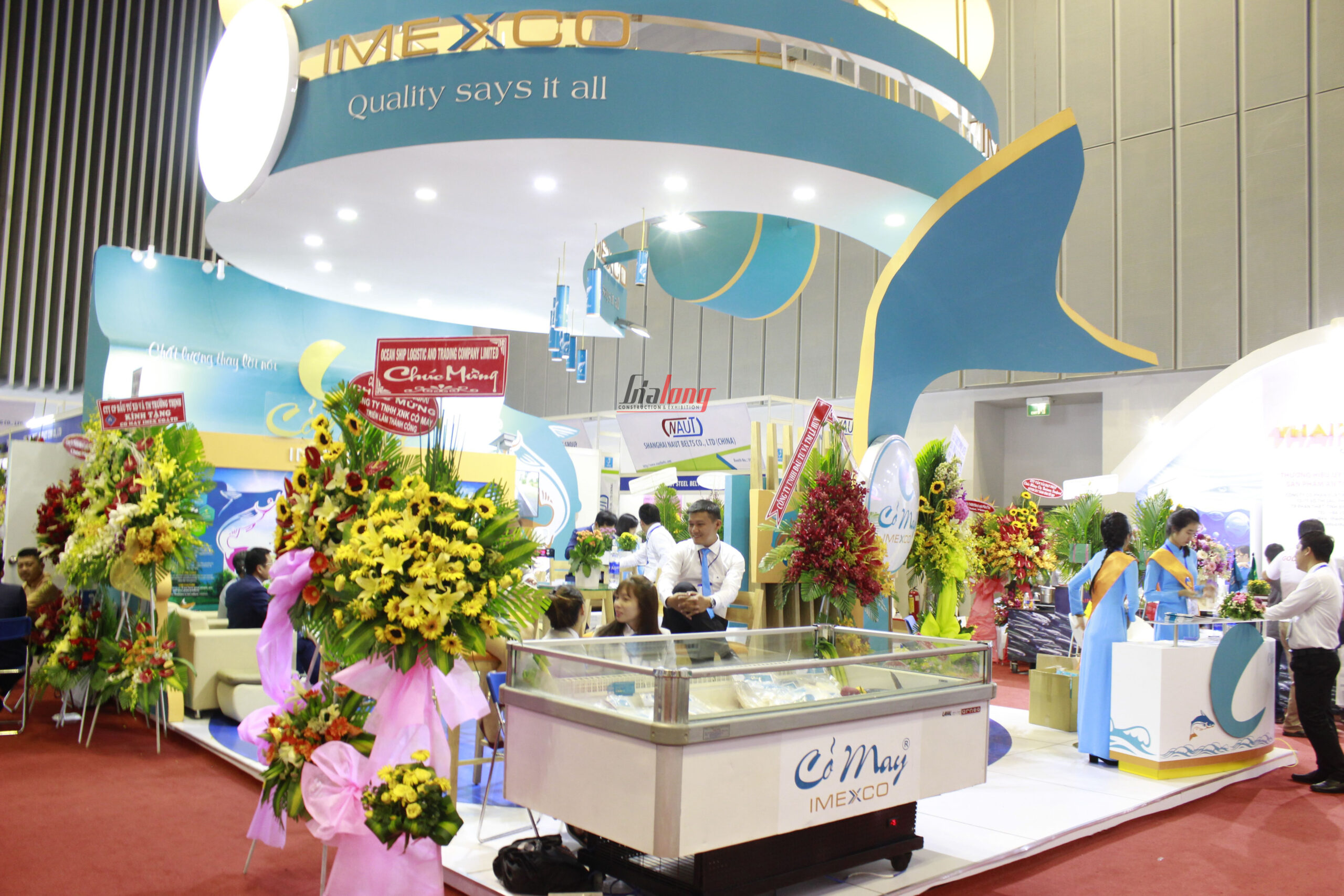 Reasons why customers should visit Vietstock 2023
Explore new products, solutions, and ideas at Vietstock 2023: In 2023, VietStock presents the value chain of livestock, animal feed, and meat processing, attracting over 11,000 delegates and trade visitors. This is an opportunity to discover products, services, and solutions from leading industry players to enhance livestock, aquaculture, and meat processing businesses, ultimately increasing profitability.
Stay updated on industry trends through specialized conference programs: Get insights into market trends from various conference programs presented by leading experts from around the world.
Connect with industry experts and businesses: Establish new sustainable business relationships by directly connecting with expert organizations.
Learn from domestic and international experts: Vietstock offers exceptional sideline programs such as Business Networking, Technical Workshops, and Industry-specific Conferences.
Top reasons livestock industry enterprises should attend Vietstock
Vietstock

exhibition brings together leading units, creating opportunities to promote products, services and brand images to partners and customers, thereby increasing sales of your business.

Find direct distributors at the exhibition with demand and expand the supply network in target markets.

Introduce new products and services.

Gather valuable market information
Specialized Conference Programs
Effective swine farming workshop
Theme: Pig farm management & strategies for feed-driven growth and profit optimization.
Poultry farming promotion
Theme: Egg-laying poultry farming: Enhancing protection methods for egg-laying hens against diseases.
Theme: Meat poultry farming: Disease control and farm management in meat poultry farming.
Sustainable Livestock Industry Development
Theme: Optimizing livestock production in the face of current challenges in the livestock industry.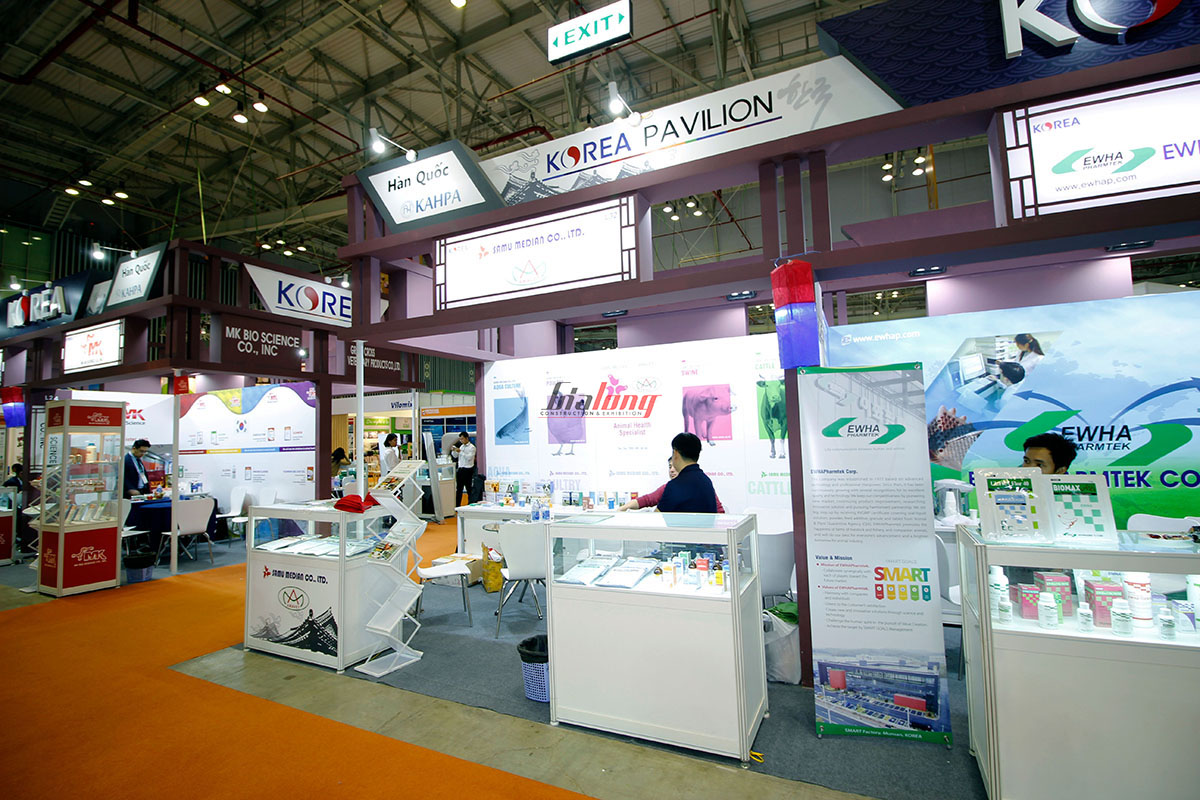 Exhibition Booth Design and Construction company for Vietstock
To participate in the VietStock 2023 exhibition, businesses need to select a reputable and professional exhibition stand design company.
Gia Long is one of the leading companies in the market with nearly 20 years of experience in exhibition booth designing Vietstock 2023. We have a professionally trained construction booth team and our own separate production workshop. Please contact Gia Long for consultation and support.
>> See more: Vietfood & Beverage 2023 – Exhibition booth construction Vietfood & Beverage