Coatings Expo Vietnam is one of the most attractive annual international events held in June in Vietnam. This is an opportunity for all companies to not only meet and exchange valuable experiences but also seek opportunities for reliable cooperation with many of the world's leading enterprises.
About Coatings Expo Vietnam
Coatings Expo Vietnam 2023 – The leading international exhibition event specialized in Coating, Coloring, Dyeing and Printing Inks. With 7 consecutive years of successful organization, this year the 8th time will continue to take place in Vietnam. With strong support from the Ministry of Industry and Trade (MOIT) and the Vietnam Paint & Ink Association (VPIA), it has become an unmissable trade rendezvous with more than 150 exhibitors from over 10 countries. , attracting 8,000 trade visitors.
Exhibition Coatings Vietnam Expo 2023 promises to cover all areas of the Paint & Ink Industry, including: Paint Products, Chemicals & Raw Materials, Manufacturing Facilities, Ink, Technology, Services… Besides, the Exhibitors around the world will introduce new applications, products and materials to meet the increasing demand for production from advanced countries into the Vietnamese market.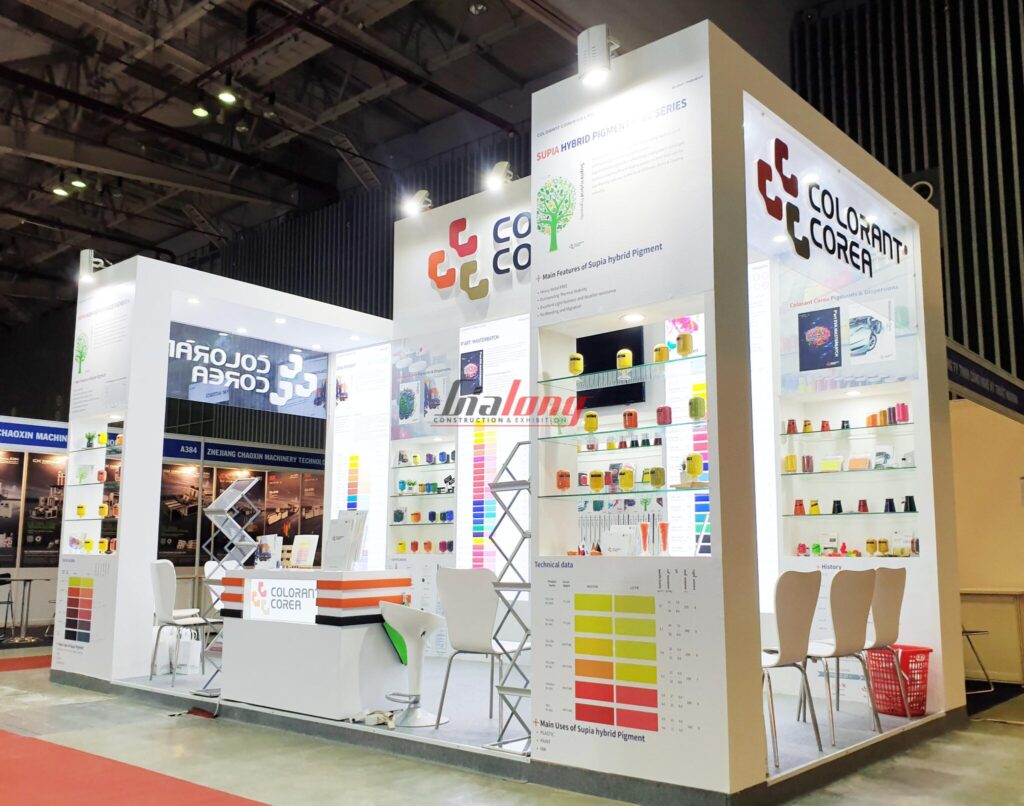 Details of the exhibition
Time: 14 – 16 June 2023.

Venue: Saigon Exhibition & Convention Center (SECC), Ho Chi Minh City, Vietnam.
Scale of display at Coatings Expo Vietnam 2023
More than 150 exhibitors from more than 10 countries and regions: India, Belgium, Germany, Indonesia, USA, Japan, Thailand, China, Korea, Malaysia, Singapore, Taiwan, Italy, Vietnam …

Attracting 8,000 visitors.

Many activities in the exhibition area typical products of the industry.

Typical exhibitors registered as: Sanyo, Koatsu, Yourtech, Datacolor, VAPAC, Qualitron, Minghui Vina, Roha, Minh Thanh, Ms Tech and ELE Shanghai…

Thiết kế thi công gian hàng tại triển lãm – Design and construction of booths at the exhibition
Exhibition industry
Marine & protective coatings, decorative coatings, wood coatings, powder coatings, roll coatings
Other (Car paint, motorcycle paint, ..)
In return, copper tube surface, water-based flexo, flexo solvent copper, lamination.
Chemicals & Raw Materials
Matterbinders, pigments (organic & inorganic), extenders, solvents, surfactants, fillers, additives.
Milling machines/Agitators/Mixers, pumping & filling systems, dispersing machines, automated paint mixing systems, other processing equipment,…
Physical analysis, structural analysis, chemical analysis.
Nano technology, surface treatment, heat spray (Plasma, Arc, Flame).
Environment/Water Treatment
Chemical, water treatment, air treatment, environmentally friendly technology.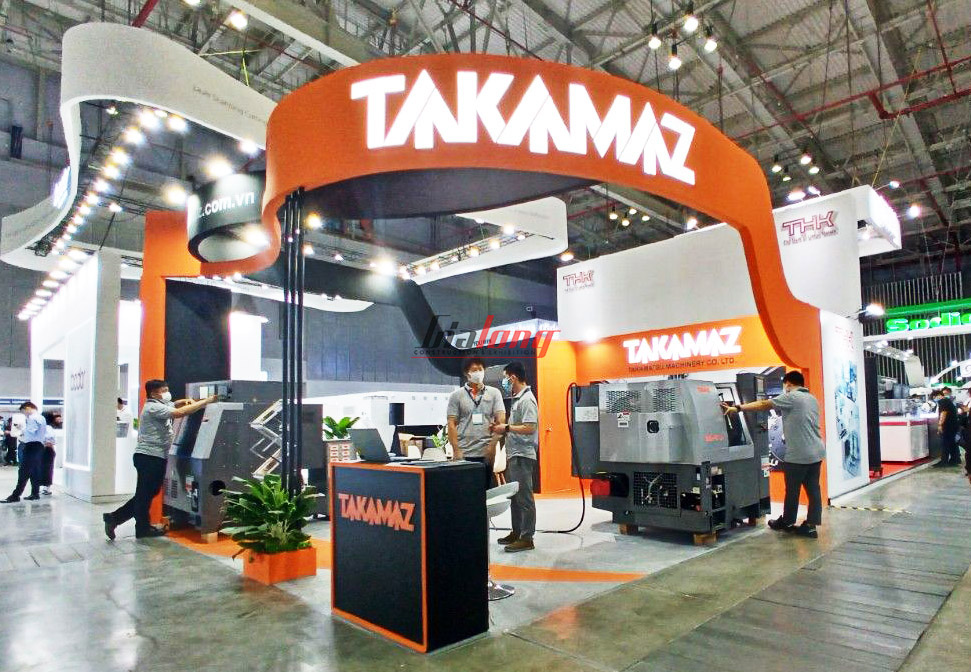 Coatings Expo Vietnam 2023 series of activities
The exhibition brings many practical and attractive activities such as:
Trade connection B2B: create conditions for businesses in the coating industry to meet, exchange directly and seek opportunities for commercial cooperation.
Seminars: take place in-depth seminars that bring useful information on trends, technologies and important issues in the industry.
VIP customers: an opportunity for customers to receive in-depth reception and advice, enjoy and experience unique products and services on the market.
Standard booth
Coatings Expo Vietnam booth construction Standard includes: Carpet, 2 Chairs, 1 Table, 1 Socket, 2 Fluorescent Lights, Trash Bin and Daily Cleaning.
Raw space

: (Min. 18m2) Ideal for exhibitors who want to build their own concepts.

Department of shells

: (Min. 9m2) Construction of booths, Carpets, 2 Chairs, 1 information counter, 1 Socket, 2 Fluorescent Lights and Boxes 1 information page about Show Directory.
Enterprises participating in the exhibition
Specialist from Specialty Chemicals for Coatings, Plastics, Water Treatment and other industries.

Supplier of organic & inorganic chemicals.

Chemicals from suppliers of herbs and other natural resources.

Supplier of Agricultural Chemicals & Fertilizers.

Raw material supplier – resins, additives, solvents, surfactants.

The company produces paints, varnishes, printing inks.

Supplier of test & measurement equipment.

Searchers from institutes, universities, organizations…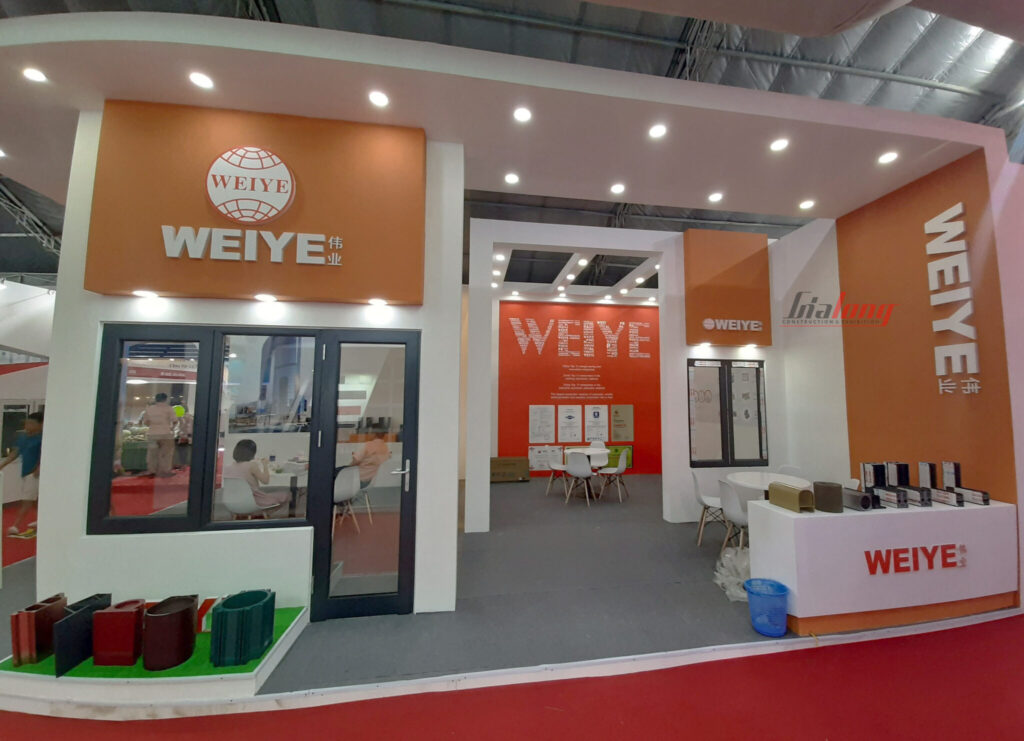 The Exhibition Booth Construction Company at Coatings Expo
Coatings Expo Vietnam is proud to introduce to visitors the leading coating industry exhibition in Southeast Asia. With the goal of displaying the highest quality paint and coating products. It is an opportunity for manufacturers, experts and customers involved in the industry to share knowledge and learn about paint products, coating chemicals, and the latest technology on the market. Therefore, finding a professional booth contractor is important to help businesses create a good impression on visitors.
Gia Long is an exhibition booth construction specialist in the construction exhibition booth at Coatings Expo Vietnam  in the market. The most prestigious in the market with nearly 20 years of experience in the industry, along with owning a professional design and construction team. We are committed to bringing the best quality booths, ensuring customer satisfaction. Please contact Gia Long immediately for all necessary support.
>>See more: GAMING VIETNAM 2023 – Exhibition Booth Design GAMING VIETNAM