In its third edition, the Aquaculture Vietnam 2023 Exhibition – an international event specializing in Aquaculture, Animal Feed, and Meat Processing – is set to take place in October 2023. The exhibition is expected to attract 350 exhibitors and over 11,000 trade visitors and industry professionals. Aquaculture Vietnam will serve as a platform to encompass the entire value chain of aquaculture, from farming and fishing to processing.
Overview of Aquaculture Vietnam
This year's exhibition program is designed with valuable and effective activities aimed at providing businesses and farmers with opportunities to access the latest scientific and technical advancements, creating breakthrough growth opportunities for the industry. Aquaculture Vietnam 2023 is a significant event within the seafood value chain and is expected to draw more than 4,000 attendees, with the participation of over 20 countries actively engaged in aquaculture, feed production, and meat processing in Vietnam. It offers a platform for knowledge exchange, networking, and global participation, fostering opportunities for learning and experiences.
The event promises to be a gathering point for sharing experiences among industry-leading experts and acts as a bridge for businesses to seek partners, promote their brand image, and discover the most effective products and solutions for sustainable business development. In addition to the exhibition, a series of prominent seminars and specialized sessions will be conducted, providing attendees with valuable insights into various topics related to aquaculture.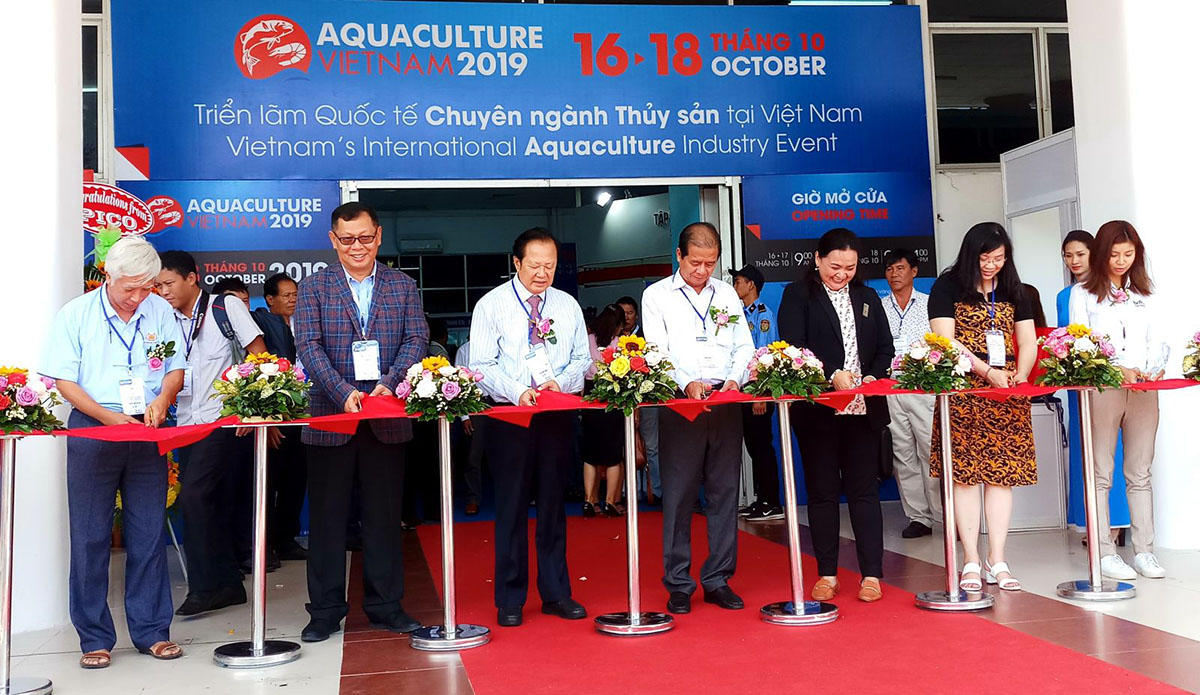 Details of Aquaculture Vietnam 2023
Date: October 11 – 13, 2023
Opening Hours: 9:00 AM – 5:00 PM
Venue: Saigon Exhibition and Convention Center (SECC), 799 Nguyen Van Linh, Tan Phu Ward, District 7, Ho Chi Minh City, Vietnam.
Exhibition Highlights
Exhibition Area: Over 3,000 square meters

4,000+ trade visitors

100+ exhibiting companies

Participants from 20+ countries and territories, including Cambodia, Laos, Myanmar, Thailand, and many others worldwide.

Chuỗi hội thảo diễn ra Aquaculture Vietnam – A series of seminars taking place at Aquaculture Vietnam
Exhibition Categories
IT and Data Services

Biosecurity Equipment

Breeding and Seed Production Equipment

Cold Storage Equipment

Product Inspection, Export Services, and Inspection

Farming Equipment

Feed and Feed Additives

Animal Feed Processing Machinery

Feed Supply Equipment

Aquatic Product Harvesting Equipment

Food Safety and Sanitation

Transportation Services

Communication and Source Traceability Solutions

Aquatic Veterinary Medicine

Seafood Processing and Packaging Equipment

Water Assessment and Treatment

And more…
Benefits of Exhibiting at Aquaculture Vietnam 2023
Direct Networking: Aquaculture Vietnam 2023 is a crucial event in the seafood industry, providing a professional environment for meetings, networking, and business opportunities for companies operating in the aquaculture value chain in Vietnam and neighboring regions. It offers direct connections with over 4,000 experts and industry leaders.
Shortened Sales Cycle: The event spans three days, making it an ideal platform for your business to achieve maximum returns and connect with promising customers.
Showcasing New Products and Services: Enhance brand recognition through technical workshops where experts share their knowledge and experience with quality attendees.
Top reasons why customers should visit Aquaculture Vietnam
Networking Opportunities: Aquaculture Vietnam is a hub for the aquaculture and seafood industry, expected to attract 4,000 industry professionals and over 100 exhibitors from more than 20 countries. Attendees can connect and gain new insights into the industry.
Explore Comprehensive Solutions: Discover products, services, and innovative ideas from domestic and international businesses in the aquaculture industry, promoting business growth and profitability.
Connect with Businesses: Engage directly with potential partners and customers to establish new business relationships.
Learn from Experience: Participate in international conferences and seminars to hear presentations from scientific speakers, stay updated on industry trends, and gain valuable knowledge.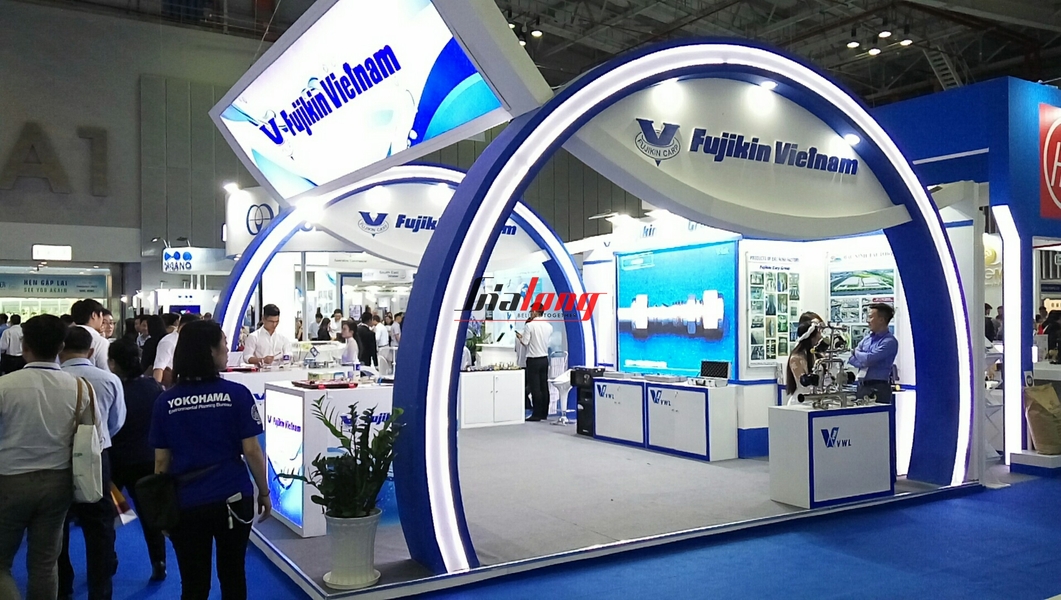 >> See more: Solar PV Show Vietnam 2023 – Construction Exhibition Booth Solar PV Show Vietnam
The construction company designed the Aquaculture Vietnam exhibition booth
Clearly, Aquaculture Vietnam offers a unique opportunity to learn and experience the advancements in Aquaculture, Animal Feed, and Meat Processing, including modern technological products. Furthermore, it serves as a platform for businesses to connect and collaborate for sustainable business growth. Therefore, having an outstanding and eye-catching exhibition booth construction is crucial for enhancing your brand's image. 
Gia Long is a professional and reputable company specializing in exhibition booth contractor in today's market. With nearly 20 years of experience in the industry and a highly experienced team, we are confident in providing our customers with beautiful and impressive exhibition booth designs Aquaculture Vietnam.
If you have any needs or questions regarding finding a company to construct your booth, please don't hesitate to contact us for thorough consultation.